ReSound Hearing Aids Review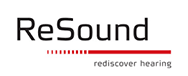 ReSound Company History
ReSound is a pioneer in the hearing aid industry, with origins dating back to the 1940s. Since then, they've expanded their reach to a global audience and have a presence in more than 80 countries. ReSound aims to bring a natural listening experience to everyone who has experienced hearing loss. They were the first to deliver 2.4GHz technology in hearing aids for direct connectivity.
Along the way, ReSound has received a few noteworthy awards. Some of their more recent accomplishments include:
CES Innovation Award 2017: Best of Innovation Honoree in Accessible Tech
Die Goldene Concha 2016: Best range of hearing aids
Golden Lobe Award 2016: Best power hearing system, best mobile app
IHS Markit Innovation Award 2016 & 2017: Most innovative technology products in health, fitness, and wearables
ReSound is part of the GN Group, headquartered in Denmark. Other companies under the same umbrella include:
Jabra
Beltone
Interton
BlueParrot
Falcom
ReSound Hearing Aid Products
ReSound offers several products for those who have mild, moderate, severe, and profound hearing loss. They even have a line of hearing aids specifically designed for kids.
In this section, we'll take a detailed look at each hearing aid product along with the features they provide.
ReSound LiNX Quattro
ReSound boasts that the LiNX Quattro is the "industry's first premium plus complete hearing solution."
The focus with the LiNX Quattro is sound quality, no matter where you are. The hearing aid can pick up on subtle sounds in a busy room without amplifying all of the background noise.
Like many modern hearing aids, you can connect the LiNX Quattro to your phone or TV for easy call and entertainment streaming. You can also adjust your sound settings from your phone with the compatible ReSound app.
One of the big selling points of the ReSound LiNX Quattro is the powerful rechargeable batteries that these devices include. You can use them all day on a single charge without worrying about running out of battery life.
Layered sound is the keyword with the LiNX Quattro. This model of hearing aid makes high and low-pitched sounds more full and natural.
ReSound LiNX 3D
The LiNX 3D is the newer version of the LiNX Quattro. This hearing aid has improved directional location and an enhanced ability to identify speech.
This ReSound hearing aid accomplishes this with Spatial Sense technology, giving you a 390-degree audio picture of your surroundings. The processor in the hearing aids simulates a natural ear, shortening the adjustment period for wearers.
According to ReSound, these hearing aids allow for a 50% increase in understanding speech, an 89% improvement to hearing the sounds around you, and a 40% increase in the ability to understand speech in noise.
You can connect these hearing aids to your smartphone through the ReSound Smart 3D app. With this app, you can sync your hearing aids to play music, phone audio, and other functions. Of course, you can fine-tune your hearing aids through the app as well.
ReSound Enzo2
The ReSound Enzo2 is one of the most powerful small hearing aids on the market. It's designed to help those with severe to profound hearing loss, but it's not too bulky and sits comfortably on your ear.
As with some other hearing aids, you can adjust the model on the fly with the ReSound Smart app and connect them to your mobile device for easy entertainment and call streaming.
These hearing aids provide power in a small size without too much feedback. Powerful hearing aids are often prone to feedback, but ReSound has mitigated this issue with the Enzo2.
ReSound Enzo 3D
The Enzo 3D is the new and improved version of the ReSound Enzo2. Like the previous model, you can adjust the power on the go, change your sound settings from the ReSound Smart 3D app, and sync it with your devices.
Like the Enzo2, the Enzo 3D specializes in being a small, powerful option for those with severe to profound hearing loss. The new Enzo 3D also comes with one of the longest-lasting batteries on the market, which can last up to 12 days on a single charge.
ReSound boasts that the Enzo 3D provides 60% more sound clarity and 60% better speech understanding than previous models. This is due to the Binaural Directionality III and Spatial Sense technology.
ReSound Enya
The Enya comes in several styles, from in the ear to behind the ear. It offers rich, full sounds, adaptive directionality, a noise tracker to eliminate background noise, and a tinnitus sound generator.
You can also connect this device to your TV, phone, computer, and microphone for easy one-on-one conversations in a busy location.
ReSound Up Smart
ReSound also makes a line of hearing aids for children, which include features like the Clip and Go to prevent the hearing aids from falling off on a young child. The Bend and Go feature also helps ensure the hearing aids stay on young children who are constantly moving.
ReSound also makes hearing aids for teens that offer the same high-quality sound. These hearing aids open the door to features like streaming from your phone, computer, and TV.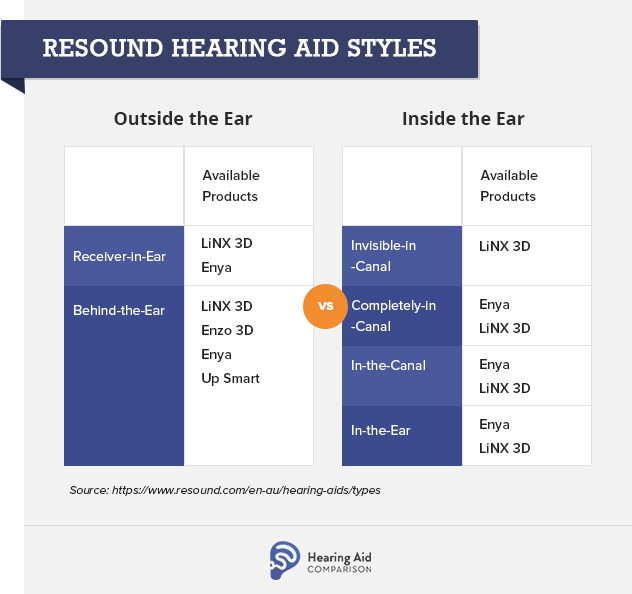 ReSound Apps
ReSound has also created several apps that interface with your hearing aids in different ways. These unique apps help to set them apart from some of the similar global hearing aid brands.
The ReSound Control App
The ReSound Control App allows you to control the volume of your hearing aids from your phone. You don't have to physically touch the hearing aids, so this is an easy way to get the most out of your hearing aid.
You can also program sound preferences for specific situations like busy restaurants, watching TV, or having a conversation in a quiet room.
ReSound Smart and Smart 3D Apps
The Smart and Smart 3D apps allow you to control specific ReSound hearing aids like the LiNX and Enzo. You can make adjustments, stream calls, manage tinnitus, check the battery, and personalise your hearing aids with only a few taps.
ReSound Relief App
The ReSound Relief app focuses on tinnitus relief by playing quiet, soothing sounds that can get rid of the distracting ring of tinnitus. You can personalise the app yourself or with the help of a hearing professional.
You don't have to have hearing aids to use the ReSound Relief app. Simply plug in normal headphones and listed to the relieving library of soundscapes.
Hearing Aid FAQs
How do I know when I need hearing aids?
It can be tough to tell when you need hearing aids because hearing loss can occur over time. Asking people to repeat themselves is often one of the first signs that you could benefit from a hearing aid. The best way to find out if hearing aids could enhance your life is by speaking with a professional. Book your free hearing screen today for a consultation with an audiologist near you.
What kind of hearing aid do I need?
The type of hearing aid you need depends on your level of hearing loss, your lifestyle, and your budget. People with profound hearing loss may need a more powerful behind-the-ear or receiver-in-ear hearing aid, while active people with mild hearing loss may want a smaller option like invisible-in-ear or completely-in-canal hearing aid.
How long does it take to get used to hearing aids?
The time it takes you to get used to your new hearing aids will vary depending on how long you've gone without them. Some people adjust after a few weeks, while for others it may take a few months to feel natural. This will also depend on the quality and fit of your hearing aids. An audiologist can help recommend a style that feels most natural and suits your level of hearing loss.