Starkey Hearing Aids Review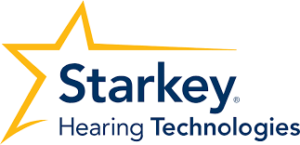 Starkey Company History
Starkey is one of the largest hearing aid brands in the world, with a foothold in countries across the globe.
In 1963, Harold Starkey opened Starkey Labs in Minnesota. Between 1964 and 1967, William F. Austin opened Professional Hearing Aid Services in South Dakota. By 1967, Austin moved his business to Minnesota; three years later he purchased Starkey Labs.
Over the years, Starkey grew with the advancement of hearing aid technology and opened branches and subsidiaries across the world, including here in Australia.
Other global brands under the Starkey umbrella include:
All American Hearing
Audibel
microtech
NuEar
Starkey Hearing Aid Styles
Starkey hearing aids are available in invisible, receiver-in-canal, completely-in-canal, behind-the-ear, in-the-canal, and in-the-ear options. You can also find solutions for single-sided hearing aids and tinnitus relief.
Ahead, we'll take a deeper look into each style of Starkey hearing aids.
Invisible (IIC)
The Starkey invisible hearing aids are customisable and completely invisible in most ears.
Two of the major drawbacks with invisible hearing aids is their inability to filter background noise and their tendency to have feedback.
Starkey mitigates these problems with sound compression technology that focuses on meaningful sounds like nearby speech. They also add their industry-leading feedback elimination technology to each pair which helps to remove buzzing, whistling, and other feedback.
The invisible hearing aids from Starkey also contain HydraShield 2 technology, which is wax and water-repellent to keep your hearing aids working for longer.

Receiver-in-Canal (RIC)
The Receiver-in-canal is great for those with mild to severe hearing loss. It's easy to adjust and comes in several different colour styles.
You can also choose between a standard size or a micro size to best fit your needs.

Completely-in-Canal (CIC)
The Starkey completely-in-canal hearing aid is another virtually undetectable option. Only a small handle you can use to remove the hearing aid will be visible, so it would take very keen eyesight to see in your ear.
These hearing aids are custom made to fit your ear and are best for mild to moderately severe hearing loss.

Behind-the-Ear (BTE)
Behind-the-ear hearing aids are the most common form of hearing aids on the market, best for moderate to severe hearing loss.
The Starkey hearing aids are discrete and are available in several different colour options.
The behind-the-ear style makes the hearing aids easy to adjust. You can select a Mini, Standard, or Power model to best fit your needs.

In-the-Canal (ITC)
In-the-canal hearing aids from Starkey are another custom-made hearing aid for mild to mildly severe hearing loss. Only a small part of the hearing aid is visible from the outside of the ear.

In-the-Ear (ITE)
In-the-ear hearing aids are a bit larger than some other styles and fit in the outer portion of the ear. These are best for mild to severe hearing loss.
Like many of the other Starkey hearing aids, these are custom-made and are available in several colour options.

Tinnitus
Starkey tinnitus hearing aids are designed to give you relief from the constant ringing in your ears. This style sits behind the ear for easy access to the buttons and dials.
Starkey uses their patent-pending Multiflex Tinnitus Technology that allows you to customise your sound to help prevent the irritating sounds of Tinnitus.
Single-Sided
Those who have one strong ear and one weak ear can choose a receiver-in-canal or behind-the-ear hearing aid to help them compensate.You can choose between the two depending on your preference and level of hearing impairment in your weak ear.
Starkey Hearing Foundation
The Starkey Hearing Foundation was created by the same man who founded the Starkey corporation: William F. Austin. He began the foundation with the same goal he brought to Starkey, to help bring hearing health services to people around the world.
Since its inception over 30 years ago, the Starkey Hearing Foundation has spread across the globe and worked with several governments and nongovernmental organizations. They aim to make hearing health more accessible to those who can't afford it on their own.
The Starkey Hearing Foundation has now provided services to over one million people and operates in over 100 countries. It has yet to be brought to Australia.
Unique Starkey Hearing Aid Features
Hearing & Activity Tracking
The hearing and activity tracking feature is available in RIC and BTE hearing aid styles. This device monitors your body and brain health through the Thrive app.
This improved technology allows your hearing aids to hone in on important sounds and gets rid of annoying background noise.
These hearing aids also allow for remote programming, so your hearing professional can adjust your calibrations without having to see you in person.
Smartphone Compatible
Several Starkey technologies are also smartphone compatible, which means you can stream calls and music from your iPhone or Android smartphone directly to the hearing aids.
These devices allow you to experience superior sound quality, especially when you're talking on the phone. Currently, RIC and BTE hearing aid types can be smartphone compatible, when you connect with the Thrive Hearing or TruLink Hearing apps.
Starkey Hearing Apps
Starkey has several hearing apps that connect to their devices and help improve your experience. The Thrive app directly connects to the Livio technology, allowing you to answer calls with your hearing aid as well as set body and brain health goals.
Starkey also provides a Tinnitus relief app called Relax. This app allows you to stream sounds to your device to help relieve bouts of tinnitus.
The TruLink hearing control app lets you answer calls as well, but it also provides a geotag hearing feature which will adjust your settings based on where you are.
You can download the SoundCheck Hearing Test app to check the noise levels and evaluate your own hearing loss, or play some games and check your progress with the Hear Coach Listening Games app.
Each of these hearing apps can be downloaded through the App Store or Google Play
FAQs
Do I need hearing aids?
It can often be difficult to recognise hearing loss that happens over time. People around you might begin to talk louder and adjust to your hearing loss, making it more difficult to tell when you need hearing aids.
Consider your day-to-day activities; do you find it difficult to follow conversations, often ask people to repeat themselves, or have a hard time hearing the TV? If you can answer yes to any of these, it is a good idea to contact a hearing professional.
How much do hearing aids cost?
The price of hearing aids varies depending on the style and model you select. Some people may be able to get free or discounted hearing aids through their employer, health insurer or another group. If hearing aids are still too costly, almost all providers offer payment plans.
How do I know which hearing aid to pick?
The right hearing aid for you will depend on a variety of factors, including the severity of your hearing loss, your lifestyle, your job, and the shape of your ear. Start by booking your free hearing screen and connect with an audiologist who can give you a professional hearing aid assessment.